MICHAEL HOSTED FUNDRAISER FOR SICK CHILDREN'S TRUST TUESDAY, OCT 13 ~ Cambridge, England
The UK based Sick Children's Trust has long been one of the M.C.I.F.A.'s 'official' charities, and much of the US$1 million+ that we have raised has been given to this amazing organization. Michael is the President of the Trust, and takes every opportunity he can to support their efforts to provide 'homes from home' to families with hospitalized children.
On TUESDAY, OCT 13th Michael hosted a 'tea and fizz' fundraiser for SCT. It was a great success, and Michael very much enjoyed the day. During his 'chat time' with attendees, he denied rumours in the press that he would be doing a renewed version of Some Mothers Do 'Ave 'Em, but he is actively pursuing other projects.
Michael has been spending a good bit of time visiting the SCT homes and visiting with the staffs, as well as families residing at the homes during their children's treatments for life-threatening conditions. In the midst of such family distress, having the opportunity to visit with one of Britain's legendary stars is a lovely break from such difficult times. And, clearly, Michael is enjoying himself, as well - as the photos below show.
https://www.flickr.com/photos/thesickchildrenstrust/albums/with/72157660059038071
The M.C.I.F.A. encourages donations to this wonderful cause at ANY time. In fact, you can direct your gifts to the home that bears Michael's name, which was done in honor of his and the M.C.I.F.A.'s dedicated support of the SCT over the years.
http://www.sickchildrenstrust.org/
---
M.C.I.F.A. at BC/EFA FLEA MARKET Sunday, September 27, 10 am - 7 pm Times Square, Shubert Alley & West 44th Street, NYC
The M.C.I.F.A. will again be participating in the annual (29th!) Broadway Cares/Equity Fights Aids flea market and auction. Come enjoy the day, support a great cause, and perhaps find that special missing piece in your own theatre memorabilia collection. Dozens of tables will feature items (in every price range) such as out-of-print cast recordings, lost Playbills from almost any show you can imagine, stacks of signed memorabilia, costume sketches, props and photographs.
We will be partnering this year for a combined table with BroadwayWorld, and will likely be the only table with ITEMS SIGNED BY THE ORIGINAL PHANTOM, THE ONE AND ONLY MICHAEL CRAWFORD. Through the years Michael has generously given the M.C.I.F.A. items from his own collection, which he signed so we may use them for our charity work. This year, amongst our offerings will be SIGNED 'Prop' notes, matted frames with lovely artwork in them, as well as RARE and out-of-print Heindel posters. Come by early, so you don't miss out!
We have also again donated a beautiful, framed and signed ceramic mask for the Silent Auction. Bids for the silent auction are taken every 30 minutes, so keep checking the status if you are interested in this beautiful piece of art for your home. Last year, our donated mask raised $1200!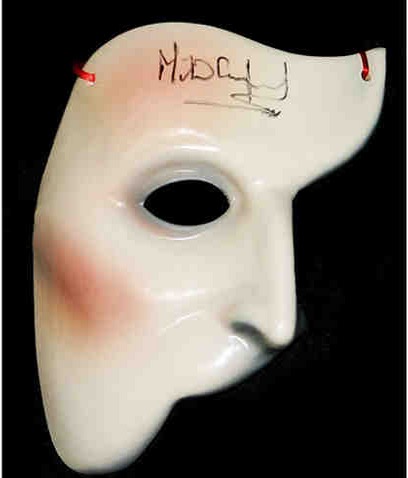 It is truly a fun day, where you can stroll amongst the tables, find one-of-a-kind showbiz treasures, meet some of your favorite cast members, and bid on exclusive backstage experiences. Top off your day with the afternoon live Grand Auction, featuring one-of-a-kind experiences and keepsakes.
The free-to-the-public, once-a-year outdoor market will stretch from the pedestrian plaza along Broadway between 43rd and 44th Streets, and down West 44th Street to Eighth Avenue, while filling the Flea Market's first home in Shubert Alley. The always popular Autograph Table and Photo Booth, where dozens of celebrities will chat with fans, will again take over the deck of Junior's Restaurant in Shubert Alley at West 45th Street.
JOIN THE FUN - AND SUPPORT A GOOD CAUSE. And be sure to stop by and say 'hello' to our volunteers at the M.C.I.F.A./BWW table.
______________________________________________________________________________
DANIELLE HOPE - BACK in NYC - Friday, June 12
Danielle Hope, 'Dorothy' to Michael's 'Wizard' at the London Palladium, is returning to '54 Below' for another terrific show. Those of us who attended in February were blown away by the terrific set she created (evidently with some loving guidance from Michael). The show begins at 9:30 pm (doors open at 8:45), with tickets ranging from $25 - $70. Since there is a $25 food & beverage minimum, we advise booking in for dinner. The food is really excellent - definitely not your typical 'supper club swill'!
If you want to make a great weekend of it, you might check out the Arts & Crafts fair at the Lincoln Center on Saturday.
Have fun!! (And be sure to let Danielle know after the show that you're a Michael fan. She was thrilled in February to know we were there to support her - as was Michael.)
---
DANIELLE HOPE AMERICAN DEBUT A SELLOUT SUCCESS!

Danielle Hope, 'Dorothy' to Michael's 'Wizard' at the London Palladium, made a spectacular debut at the well known dinner club '54 Below' in New York City on February 13th. The outside temperature was waaaay below 54 degrees, but inside the club, the temperature soared as Danielle entranced a cheering, sold out crowd. She graciously acknowledged Michael's continuing help and friendship to her, and included a special tribute to him - a lovely trio rendition of 'Music of the Night' with fellow Wizard of Oz cast members (and Michael admirers), Cieli O'Connor and Edward Baker-Duly. Many M.C.I.F.A. members were in attendance to support this delightful and talented young woman, including photographer Genevieve Rafter-Keddy.
Here's to seeing more of Danielle on Broadway!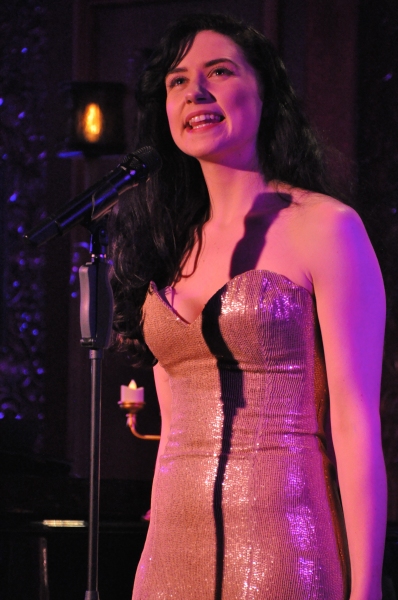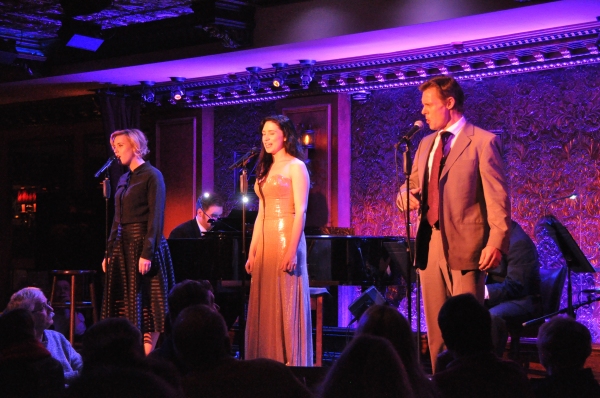 ---
HAPPY BIRTHDAY, MICHAEL!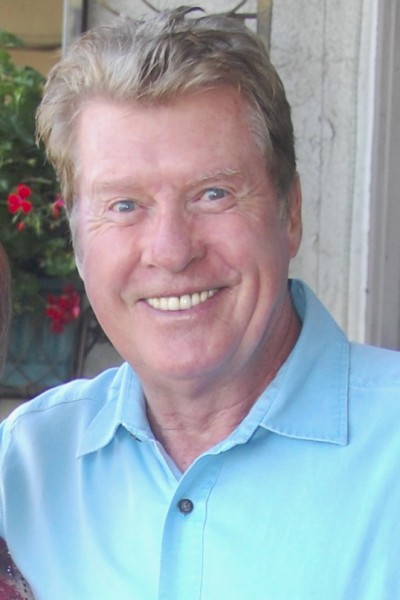 Many, many happy returns from all your
admirers, Michael - and best wishes for a
lovely day for a lovely gentleman.
---
M.C.I.F.A. - DONATED MASK RAISES $1200 FOR BC/EFA!!
RARE TREASURE FROM THE PHANTOM OF THE OPERA - CERAMIC RECREATION OF PHANTOM'S MASK SIGNED BY MICHAEL - BROUGHT IN $1200 AT THE BROADWAY CARES / EQUITY FIGHTS AIDS FLEA MARKET LIVE AUCTION ON SUNDAY, SEPT. 21.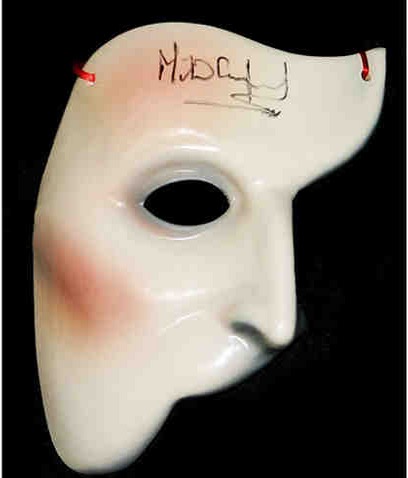 Write up in BC/EFA Auction Catalog
Since its first preview at the Majestic Theatre on January 8, 1988, the brilliant production of Andrew Lloyd Webber's THE PHANTOM OF THE OPERA has enthralled millions, weaving a spell of musical mystery and romance for more than 11,080 performances on Broadway alone. Enhance your own unforgettable memories of the "Masquerade" at the Paris Opera House with this extraordinary one-of-a-kind treasures signed by the creative genius who first created "The Music of the Night" for us all and for years to come.

Open up your mind, let your fantasies unwind with a beautiful ceramic re-creation of the Phantom's mask, signed by the Michael Crawford, who created the role with his now legendary performance in the original productions in the West End and on Broadway.
The Michael Crawford International Fan Association has donated this mask for this year's Broadway Cares / Equity Fights AIDS Flea Market, taking place on Sunday, September 21 in Shubert Alley in New York City.

---
Michael Receives CBE at Windsor Castle
It's official!! Michael was made a Commander of the British Empire (CBE) by the Queen in an investiture ceremony in March at Windsor Castle. He was honored for his charitable and philanthropic services, particularly for children's charities.
In an article from the Oxford Mail, Michael joked afterwards, "My mother always told me to do things modestly - so I'm not really a good advertisement for any charity."
May we respectfully disagree with him, and say that he has been a superb representative for all the charities with which he is involved, and that his modesty has helped make him the man that he is. And we're very sure his mother is very proud of him, as are we all.
Photo of Michael receiving CBE from the Queen.
Photos from the Getty Images website.
BBC News coverage of the ceremony.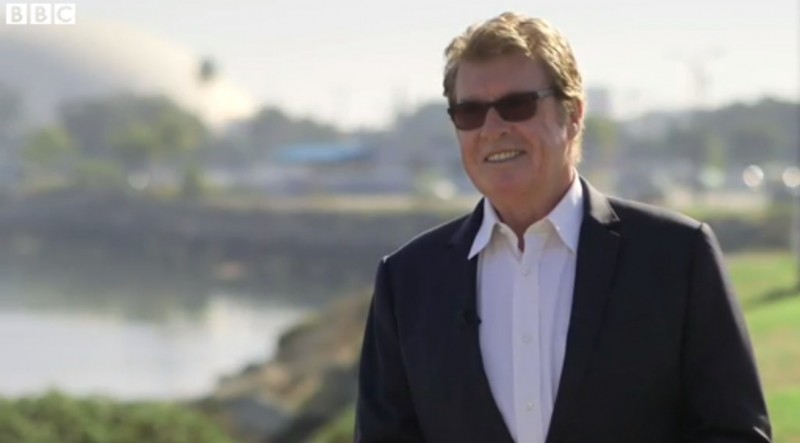 Michael Awarded CBE!
We know you all send Michael love and huge congratulations for his inclusion on The Queen's New Year's Honor's list, December 2013. It was announced that Michael is a recipient of the CBE (Commander of the Order of the British Empire)!
Michael is absolutely delighted and said during an interview with the BBC that news of the award was "...a great surprise, I'm quietly and respectfully very excited." Michael spoke of his humble beginnings and said the award would inspire him to "work harder." He also said that, "I do thank most sincerely those who are responsible for my receiving this great honour and to all my friends and colleagues at The Sick Children's Trust, I'm proud to be a part of our very special charity."
See the video of the interview at: http://www.bbc.co.uk/news/uk-25548619
And a nice write-up on itv.com news: http://www.itv.com/news/update/2013-12-30/michael-crawford-cbe-was-most-wonderful-surprise/
The M.C.I.F.A. is proud to have participated with the Sick Children's Trust in the sponsorship of Michael for this honour. Michael's Twitter page has lit up with congratulatory messages from all over the world.
Well done, and WELL deserved, Michael!!
---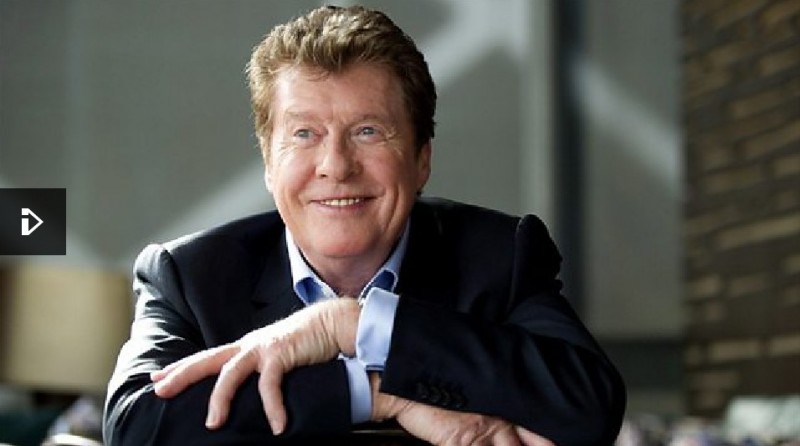 Michael Featured on BBC Four Program About Benjamin Britten
BBC Two Series - "The Many Faces of Michael Crawford"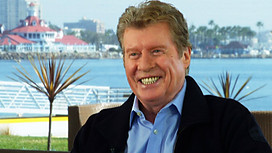 Available for viewing through April 27 at
BBC Two - "The Many Faces of Michael Crawford"
.
(Currently BBC iPlayer TV programs are available for play in the UK only.)
While Michael was in California this past March, in addition to the 'Moment with Michael' event for M.C.I.F.A. members, he recorded a lengthy interview for BBC Two. Members, please see the latest Hotline Update for additional information on viewing the program.
According to BBC Two, the program
"...features a new interview with Michael in which he reveals he's not a natural singer or dancer — the 'Hello, Dolly!' producers wanted to overdub his most famous song. That song is now a cult classic but his Hollywood success was short lived and he spent some time working in his wife's cushion factory before landing his best known part as Frank Spencer in 'Some Mothers Do Ave Em.' His love of stunts and mastery of Frank's comic mannerisms made him a household name but once more Michael Crawford turned to the stage in what became the biggest musical of all time —
The Phantom of the Opera
. In recent years he has stayed on stage but relentless stunt work and a punishing schedule has taken a toll on his health. Nevertheless, after more than 50 years in the business, he recently returned to the stage in the musical
The Wizard of Oz
— still singing and dancing with a new generation."

Photo by Genevieve Rafter-Keddy
Phantom's 25th Anniversary in New York
The M.C.I.F.A. had a weekend full of activities for members during the mega-celebration for The Phantom of the Opera's 25th Anniversary in New York on January 26th. Michael couldn't make it to the festivities, but he was certainly well-represented 'in absentia', with hordes of enthusiastic fans in attendance, on-screen and on-stage mentions from the creative team and former co-star Sarah Brightman, and a letter he sent, read by the legendary Hal Prince.
Here's what Michael had to say in a brief note, introduced by Hal Prince as "someone who we wish was here" that received much applause:
Dear Hal,
Just a note to congratulate everyone on this wonderful 25th Anniversary of Phantom. Hal, I remember the night before we opened, when you told me that my life would change from that day on. And, sure enough, I had the most exciting period of my career during that first year of Phantom - working with the great company, crew and orchestra. So many wonderful memories. My love to you all and to the many subsequent company members through the years and most of all - thanks Hal for a being a great captain of the team.
With love,
Michael Crawford
_________________________________________________________________________
Michael's Martini Glass
Michael was contacted several months ago to support a Celebrity Martini Glass Auction, a fundraiser created to support the Naples International Film Festival and the Arts. World-renown fashion & jewelry designers create one-of-a-kind works of art on a celebrity signed martini glass. We sent the signed glass back to them a few weeks ago, and it is now part of the featured rotating display on their website. It turned out quite spectacularly! On February 18, 2013 these unique works of art will be on display one night only at the Philharmonic Center for the Arts. The martini glasses will be viewed by guests, then auctioned off at the event. Perhaps some of you Florida members might want to attend and get a chance at this. It's pretty neat!
---
Two New CD Compilations Available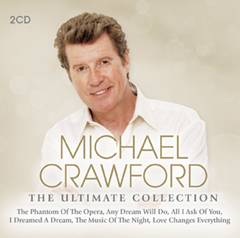 UK 2CD Release
'The Ultimate Collection' a 2CD set of 28 of Michael's most classic recordings is due to be released in the UK on November 26. The CD set can be preordered at Amazon.com, Click Here.
The record company has generously donated some CDs to the M.C.I.F.A. to raise money for our charity work, and members should watch our Hotline Updates for details.
The Ultimate Collection contains acclaimed performances from classic musicals such as The Phantom Of The Opera, Jesus Christ Superstar, Les Miserables, The Lion King and Aspects Of Love as well as beautiful love songs including If and When I Fall In Love.
---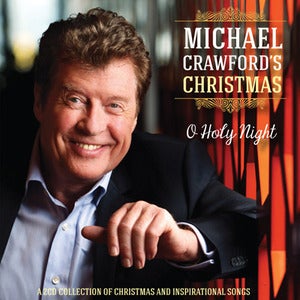 And in Australia
"Michael Crawford's Christmas - O Holy Night" features 21 tracks of classic Christmas and Spiritual songs from Michael's previously released Christmas and 'On Eagles Wings' albums. Neither of these albums is currently available in stores in Oz but you can order this special compilation Click Here.
---
Michael Crawford and Susan Boyle Duet on 'The Music of the Night'!

"The Music of the Night" is from Boyle's new album, "Standing Ovation," which will be released November 13 (click here to pre-order). Boyle has reached international stardom and sold over 18 million albums in the just three years. "Standing Ovation" showcases duets with both Michael Crawford and her lifelong idol, Donny Osmond and is filled with songs from her favorite shows. click here for more info.
---
PHANTOM to Celebrate 25th Anniversary on Broadway 1/26/2013

The longest-running show in Broadway history, Andrew Lloyd Webber's THE PHANTOM OF THE OPERA will again make theater history when it becomes the first Broadway show to celebrate its 25th Anniversary on Saturday, January 26, 2013. Sierra Boggess, who played the role of Christine at the London 25th Anniversary concert at which Michael appeared, will be joining the Broadway production for a limited engagement.
There is no word yet whether Michael will be in New York during the anniversary, but we will keep members updated through future Hotline Updates. click here for more info.
---
Michael to Voice 'The Giant' in JACK AND THE BEANSTALK UK PANTO

Michael will record the voice of 'The Giant' for a new pantomime of JACK AND THE BEANSTALK starring Britt Ekland and Anita Harris. For more information, click here.
---
"That old Frank 'n' Betty team still in action..."

The Chichester Observer has a new interview with Michael's SOME MOTHERS DO 'AVE 'EM former co-star, Michele Dotrice about her new project, The Ladykillers. Michelle notes ""But the other day my friend Michael Crawford came around to the flat and said 'How are you going to play Mrs Wilberforce?' I said I didn't know, and he just started to play her, no script, just playing her how she should be, off the top of his head. I was in hysterics. I had tears rolling down my face the way he played this little old innocent lady with a beaming smile, apparently totally vague, but you know that she is as sharp as a pencil underneath. It was so hysterical watching him. "I said to him 'Michael, will you do me a favour? I think it will be funnier if you play her for me!'""
Click Here for the full interview.
---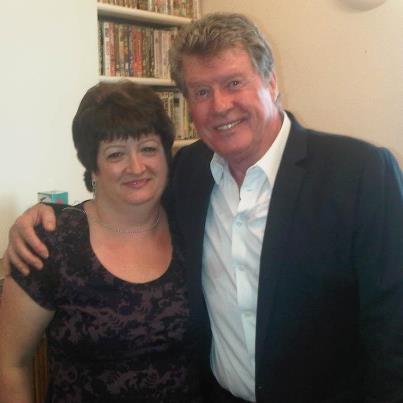 Sick Children's Trust Update

On August 2, 2012, Sick Children's Trust President Michael Crawford stopped by Rainbow House yesterday to film their ICAP Charity Day DVD.
The Sick Children's Trust believes that seriously ill children should not be separated from their loved ones whilst in hospital.
The Sick Children's Trust (SCT) is a UK registered charity (similar to the American "Ronald McDonald House" organization). It was founded in 1982 to alleviate family stress and promote the recovery of seriously ill children through the provision of accommodation near hospitals, where families can stay close to their sick child.
---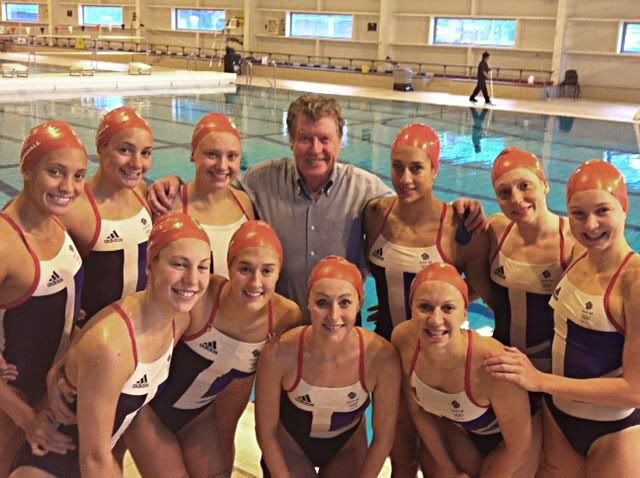 Photo: Michael and the Great Britain Team - Source @TeamGB, July 31 2012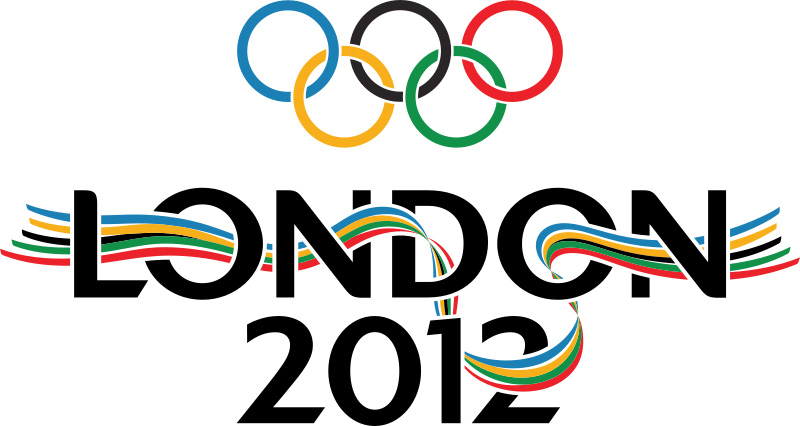 Got Olympic Fever?

Michael has been working with the Great Britain Olympics Synchronized Swimming Team. As well as coaching them on improving their artistic marks, Michael provides the voice over for their Peter Pan-themed free routine.
We thought you'd enjoy the following links to the article and video coverage:
http://www.swimming.org/britishswimming/news/diving/crawford-revealed-as-voice-of-olympic-synchro-routine/13847/

http://www.bbc.co.uk/news/uk-england-hampshire-18350522
The synchronized swimming competition is scheduled to take place from August 5 to August 10, 2012.
---
InDepth InterView: Patricia Kelly Discusses GENE KELLY @ 100, Lincoln Center Shows, SINGIN' IN THE RAIN HD & More
On BroadwayWorld.com, Gene Kelly's widow Patricia Kelly talked about a number of topics, including about Gene's work with Michael in HELLO, DOLLY! Click here for the full interview.
PK: Michael Kidd was the choreographer on the picture, but Gene choreographed and staged the "Ribbons Down My Back" number and Michael Crawford's number, "It Only Takes A Moment". If you look at those numbers, they are very distinct numbers in the picture. Of course, he also created the parade scene, as well. Another interesting thing about that picture is that the producers did not want Michael Crawford to sing.


BWW: Which is almost impossible to believe.

PK: I know, but they didn't want him to sing "It Only Takes A Moment" in the film - they said that he had this tiny, little voice and that they wanted a powerhouse to sing that song. So, they didn't want that scene even to be in the picture with him singing it, but Gene said, "No, I want it in," and, since, obviously, look what's happened to Michael Crawford!

BWW: Precisely. Michael spoke so favorably of working with Gene when he did this column. Did you and Gene see him in THE PHANTOM OF THE OPERA at any point?

PK: Yes, we did. We were actually at the opening night in Los Angeles. Michael was a dear friend to Gene and I have heard him in interviews recently explain why Gene was so important and so inspirational to him. So, I really, really appreciate that - Michael speaks so highly of what Gene taught him and it is so nice to hear. You know, with things like that and with the new Warner Brothers featurette with these choreographers, directors and dancers saying, "Hey,Gene Kelly was my inspiration; Gene Kelly is my model;Gene Kelly influenced me; Gene Kelly inspires me every day," it's really like he's alive. It's not like he's dead and 100 - he's still cool and relevant.

---
On February 5, 2012 - Michael played his last performance as the Wizard at the London Palladium
Michael completed his run as the Wizard in Andrew Lloyd Webber's new production of THE WIZARD OF OZ at the London Palladium on Sunday, February 5, 2012. The show began previews on February 7, 2011 and opened on March 1, 2011 to lots of rave reviews!
His performances were great and he received Standing Ovations throughout his run!
Click Here for a Look Back...