HAPPY 75th MICHAEL!!
A PRESENT FOR YOU --- AND ALL OF US
Even though he looks like - and has the energy of - a 50 year old, Mr. Crawford is indeed celebrating his 75th birthday on January 19, 2017. In honor of this very happy occasion, we have today rolled out our completely refurbished and updated website. It has a responsive design, so should display well on all your devices from phone to tablets to computers. We hope you enjoy it!
An ESPECIALLY WONDERFUL feature is the interactive career timeline at the top of the Home Page. Click on any of the 'flags' and you will be given additional information about each of the career events as well as many fantastic videos and photos related to each event. This is truly the only place on the web (or anywhere else) where you can find this detailed chronicling of this amazing gentleman and his spectacular career...thus far!
There are many other new features and enhancements to other sections of the site, in addition to the above mentioned timeline. Explore and enjoy!
---
THE GO BETWEEN CLOSES OCTOBER 15, 2016 - APOLLO THEATRE, LONDON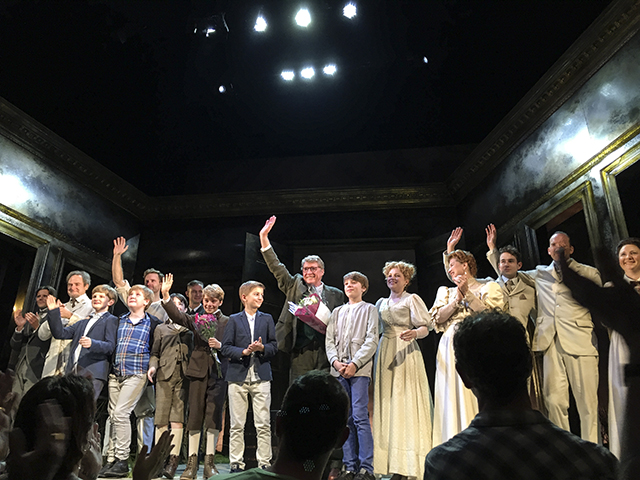 Entire company receives well deserved standing ovation. [Flowers courtesy of the M.C.I.F.A. :-) ]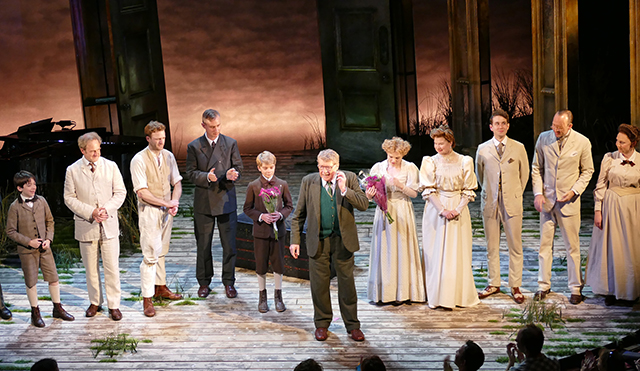 Michael's emotional and gracious speech
"I'm going to miss this. I don't know...what... but even if this is the last thing I ever do, I shall be very happy."
With those words, Michael exited the stage of the Apollo, after completing this limited run of "The Go Between" which began last May. He became involved with the project over two years ago after falling in love with the music and the unique staging of this well loved classic story, and was a major force in bringing its West End appearance to fruition.
Michael praised the company for "truly being a team" and so supportive of one another, and that in 62 years on the stage, he had not experienced any better. He especially praised the six young boys for being so "disciplined", something he said was far too "naughty" to have done when he was their age. He has said Leo Colston is his most demanding role ever, and his presence on stage, literally the entire show, plus the vocal demands of Richard Taylor's beautiful score (described as a blend of Stephen Sondheim and Benjamin Britten), may make the end of the run a bit of a relief along with the sadness.
Leo Colston's last line of the show, as he clicks off the single dim light on the stage before walking slowly away, is "...I am content." And so, evidently, is Michael Crawford. Let's just hope he walks back on stage in the not too distant future.
---
MICHAEL MAKES SURPRISE APPEARANCE AT PHANTOM'S 30th ANNIVERSARY CELEBRATION
OCTOBER 10 - HER MAJESTY'S THEATRE - LONDON
The Really Useful Group streamed live onto Facebook the pre and post show activities for the 30th ?anniversary of Phantom's opening in London. They did not reveal ahead of time who their "special surprise guests" would be at the Special Finale Event. But as the Finale ended, the entire cast & company parted in the middle and honored the original Phantom, who made his way downstage to a huge standing ovation - as he had done hundreds of times on that very stage. Michael had raced over to Her Majesty's after finishing the evening performance of "The Go-Between" at the Apollo, and was rewarded with well deserved appreciation.
---
THE GO-BETWEEN Opens to Standing Ovation in London !

The Apollo Theatre was chock full for Press Night on Tuesday, June 7th, and they and the few public seats that were to be had, provided Michael Crawford and the entire company with a standing ovation. Clearly, "the great man's" return to the West End was heartily welcomed, and this small "gem of a production" was well received by an audience that has known and loved the story for decades. A relieved and happy Michael greeted fans at the stage door prior to departing for the opening night party.
Michael has said this is the most demanding piece he has ever done, and the intensity of his performance and his constant presence on stage, prove this out. If you can get to the Apollo during this limited run (20 weeks ending October 20th), DO SO. It is a masterful, iconic, Michael Crawford performance.
Congratulations to Michael and the entire creative team - well done!
Opening Night Photos | Reviews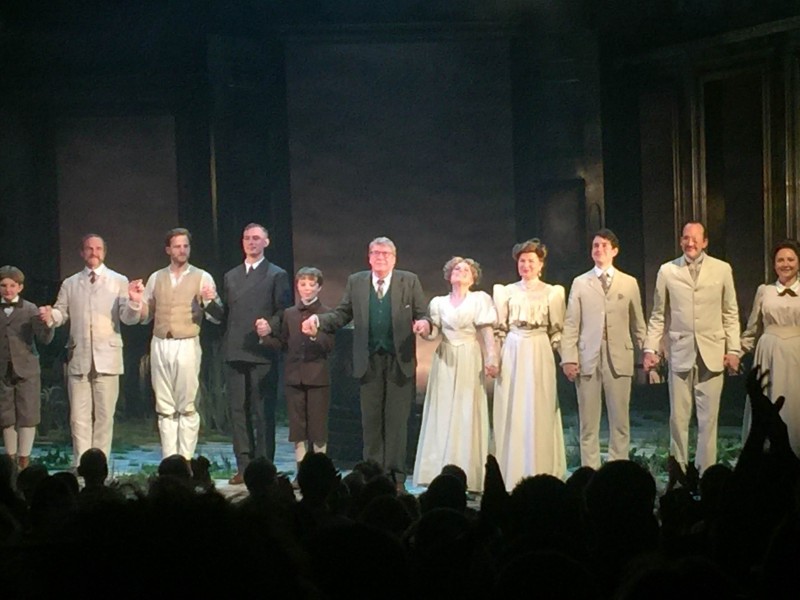 Click Play above for a clip of Michael singing 'Butterfly' - for production photos, click here.
---
First Two Previews of The Go-Between Receive Standing Ovations!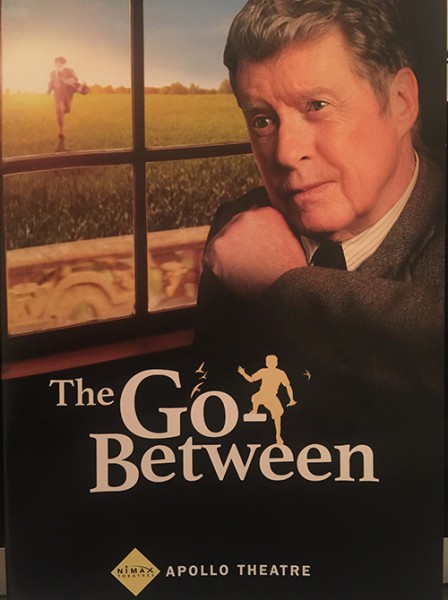 Michael Crawford has officially returned to the London stage, where previews kicked off this week to standing ovations! After demanding performances, where he is onstage literally the entire performance, Michael graciously signed programmes for the large crowd of fans at the stage door.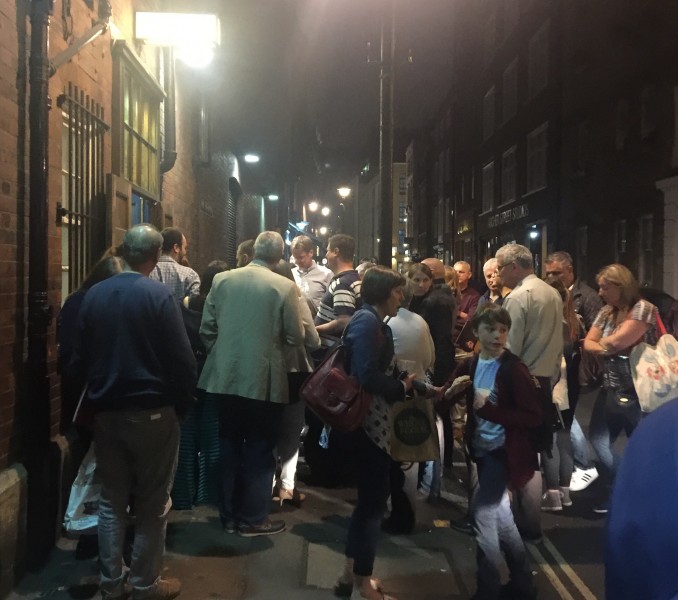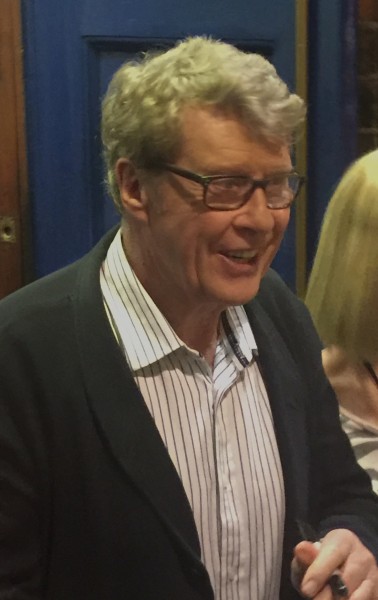 Click here for More Info | Click Here for Tickets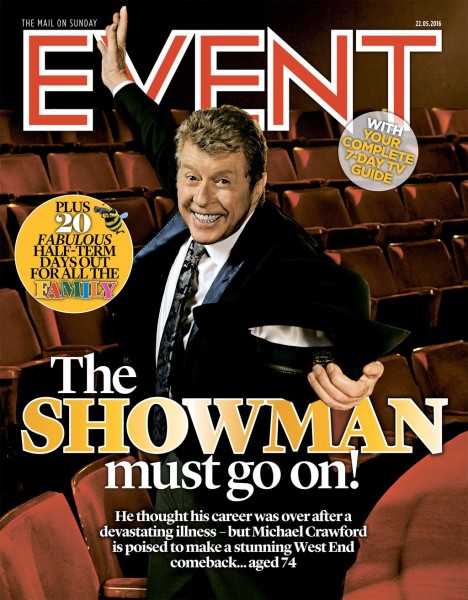 Sunday Daily Mail Special Feature: Michael Crawford is poised to make a stunning West End comeback...
Click Here to Read the Feature!

MICHAEL TO RETURN TO THE WEST END!
Michael Crawford will return to the London Stage in a new musical, based on the famed novel THE GO-BETWEEN. The production will begin performances on May 27th at the Apollo Theatre in London's West End. The production will mark Crawford's return to the stage after most recently appearing in THE WIZARD OF OZ at the London Palladium and will open on June 7th. THE GO-BETWEEN is a novel by L. P. Hartley published in 1953. His best-known work, it has been adapted several times for stage and screen. The musical's creative team includes composer Richard Taylor, writer David Wood and producers Joseph Smith and Bill Kenwright.
---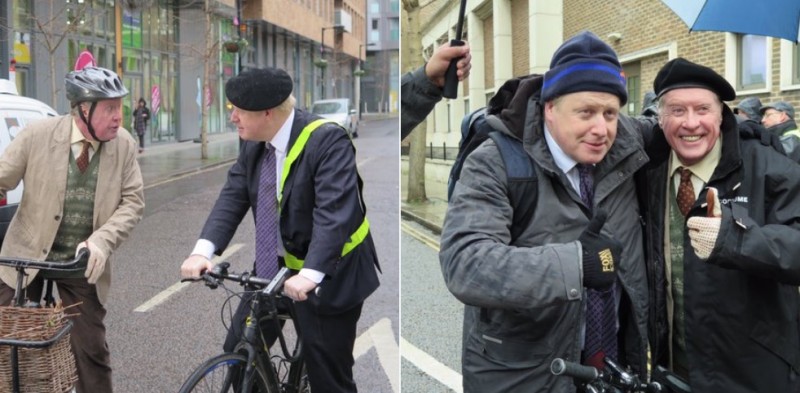 Michael Reprises Frank Spencer Role for Record-Breaking Sport Relief Special
Michael brought back his iconic comedic role as Frank Spencer in a BBC One special for Sport Relief Night on March 18 at 7pm. If you're in the UK and missed it, it's downloadable here.
Michael is "...thrilled and delighted to have been asked to bring Frank Spencer back for Sport Relief." This year's event raised a record breaking £55,444,906!

Below, watch Michael on the live broadcast talking about the sketch and the charity, plus a new interview!
---
MICHAEL HOSTED FUNDRAISER FOR SICK CHILDREN'S TRUST TUESDAY, OCT 13 ~ Cambridge, England
The UK based Sick Children's Trust has long been one of the M.C.I.F.A.'s 'official' charities, and much of the US$1 million+ that we have raised has been given to this amazing organization. Michael is the President of the Trust, and takes every opportunity he can to support their efforts to provide 'homes from home' to families with hospitalized children.
On TUESDAY, OCT 13th Michael hosted a 'tea and fizz' fundraiser for SCT.It was a great success, and Michael very much enjoyed the day. During his 'chat time' with attendees, he denied rumours in the press that he would be doing a renewed version of Some Mothers Do 'Ave 'Em, but he is actively pursuing other projects.
Michael has been spending a good bit of time visiting the SCT homes and visiting with the staffs, as well as families residing at the homes during their children's treatments for life-threatening conditions. In the midst of such family distress, having the opportunity to visit with one of Britain's legendary stars is a lovely break from such difficult times. And, clearly, Michael is enjoying himself, as well - as the photos below show.
The M.C.I.F.A. encourages donations to this wonderful cause at ANY time. In fact, you can direct your gifts to the home that bears Michael's name, which was done in honor of his and the M.C.I.F.A.'s dedicated support of the SCT over the years.
---
Michael Receives CBE at Windsor Castle
It's official!! Michael was made a Commander of the British Empire (CBE) by the Queen in an investiture ceremony in March at Windsor Castle. He was honored for his charitable and philanthropic services, particularly for children's charities.
In an article from the Oxford Mail, Michael joked afterwards, "My mother always told me to do things modestly - so I'm not really a good advertisement for any charity."
May we respectfully disagree with him, and say that he has been a superb representative for all the charities with which he is involved, and that his modesty has helped make him the man that he is. And we're very sure his mother is very proud of him, as are we all.
Photo of Michael receiving CBE from the Queen.
Photos from the Getty Images website.
BBC News coverage of the ceremony.
Michael Awarded CBE!
We know you all send Michael love and huge congratulations for his inclusion on The Queen's New Year's Honor's list, December 2013. It was announced that Michael is a recipient of the CBE (Commander of the Order of the British Empire)!
Michael is absolutely delighted and said during an interview with the BBC that news of the award was "...a great surprise, I'm quietly and respectfully very excited." Michael spoke of his humble beginnings and said the award would inspire him to "work harder." He also said that, "I do thank most sincerely those who are responsible for my receiving this great honour and to all my friends and colleagues at The Sick Children's Trust, I'm proud to be a part of our very special charity."
See the video of the interview at: http://www.bbc.co.uk/news/uk-25548619
And a nice write-up on itv.com news: http://www.itv.com/news/update/2013-12-30/michael-crawford-cbe-was-most-wonderful-surprise/
The M.C.I.F.A. is proud to have participated with the Sick Children's Trust in the sponsorship of Michael for this honour. Michael's Twitter page has lit up with congratulatory messages from all over the world.
Well done, and WELL deserved, Michael!!