Join the MCIFA
Click Here to Join the MCIFA Today !
Click Here to Register for Online Access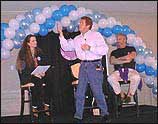 This club, established in 1990 and the only such organization officially authorized by Michael, is available as a direct source of accurate information, and support for its members. However, the Association's purpose is not only to benefit Michael and its members, but also to support the charitable causes in which he is interested. Therefore, funds from M.C.IF.A. sponsored fundraisers are directed toward children's charities with which Michael is associated around the world.

As a member you will receive many exclusive benefits:



A New Member Package with: your membership card, a letter of welcome from Michael, a photograph of Michael's choice, data on Michael and his career in "A Bit of the Best", and a Guide on Association operations.
Access to the Member Only section of our website , as well as emailed "Hotline Updates" with accurate bulletins on Michael's professional activities, verified and approved by Michael or his management, as well as M.C.I.F.A. member events worldwide.
Access to priority seating at Michael's performances and convenience in purchasing pre-public sale tickets through our Group booking service.
Admission to Member- Only events at which Michael appears.

Lifetime Membership - One Time Fee of US$36/27 pounds
Lifetime Associate Memberships are available for immediate family members residing at the same address. One time fee of US$12/8 pounds.

PLEASE BE SURE YOU ARE REGISTERED ON THE WEBSITE in order to continue receiving Hotline Updates and other Lifetime Member Benefits. If you have any problems, please email us (Email@mcifa.com) or leave a message at the office (562) 430-6525.



Associate memberships are available for a US$12/8 pounds one time fee. Associate members must reside at the same address as the Full Member. An Associate Member enjoys all Full Member rights, including attendance at "Member Only" events. The only exception is that Associate members do not receive their own membership packet nor individual mailings. To join, either fill out the online form below and click submit, or print the form and send it along with a check or your credit card information. If you would like to join on-line, you must submit a credit card number. If you prefer to submit by mail, please print the application form and mail it along with a check or your credit card information to:

M.C.I.F.A.
Attn: New Membership
2272 Colorado Blvd., PMB #1367
Los Angeles, CA 90041

All checks/money orders must be in US dollars or British Pounds Sterling. Due to the heavy increase in new members, memberships are taking a full 6-8 weeks to process. If you are joining in time to order tickets for one of Michael's concerts through M.C.I.F.A., mail or submit your membership, then wait three or four days and submit your ticket order with a note on the order form saying you are a new member, and the date your membership application was mailed or submitted online. Memberships will be verified before ticket orders are filled.
Click Here to Join the MCIFA Today Online !

Click Here to Print and Mail or Fax